Academic Software Requests
All NKSD approved academic software must be evaluated according to several criteria. Digital tools need to be appropriate for the learning goal, serve the intended purpose, and be safe and secure.
Curriculum Requirements - Is this a high-quality resource for student learning?
Technical Requirements - Is this digital tool compatible with our devices and infrastructure?
Legal Requirements - Is this digital tool compliant with state and federal student data privacy laws?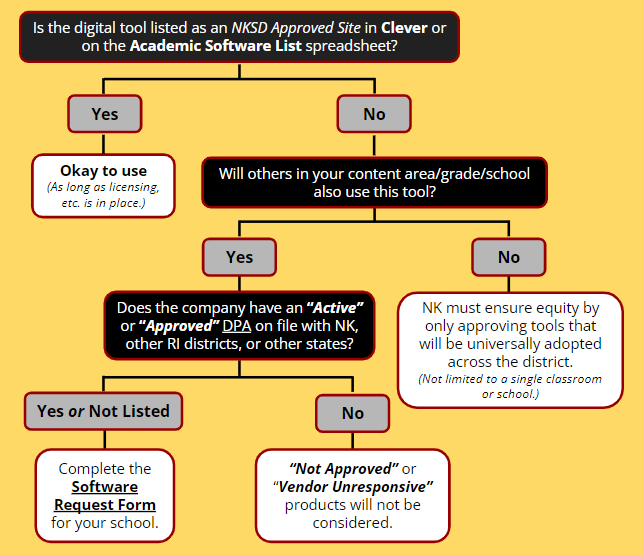 Use the decision tree above to determine if an Academic Software Request is appropriate.

Complete your school's Software Request Form. (see links below)

Your Building Principal will receive your request for approval.

All Approved requests are forwarded to the Curriculum/IT Academic Software Committee for consideration in their monthly meeting.
| SCHOOL | REQUEST FORM LINK |
| --- | --- |
| NKHS | |
| DA | |
| DMS | |
| WMS | |
| FC | |
| FP | |
| HE | |
| QE | |
| SL | |
| TERM/PHRASE | DEFINITION |
| --- | --- |
| Clever | Clever is an instructional portal that helps teachers & students access approved digital resources with one click. There's no need to remember multiple usernames or passwords. |
| NKSD Approved Site | An NKSD Approved Site has been vetted by the Curriculum/I.T. team to be sure that it is compliant with state and federal student data privacy laws. |
| | All green highlighted tools are approved for use by students/teachers. All red highlighted tools are not approved for use in NK. Any orange highlighted tools are being considered for use. |
| | The RISPA is a collaboration of RI schools/districts that share common concerns around student privacy. They maintain a database of digital tools and whether or not they meet expected student privacy standards. |
| | This list shows the current DPA approval status for NKSD digital resources. (For easier searching, change "Show 10 entries" to "100". ) |
| Data Privacy Agreement (DPA) | The purpose of a DPA is to describe the duties and responsibilities of a provider to protect Student Data including compliance with state and federal laws. |
| DPA Status - Active | The provider has an active student data privacy agreement on file with NKSD. |
| DPA Status - Approved (No Data Collected) | The provider does not collect any personally identifiable information from students. |
| DPA Status - Not Approved | The provider has declined to enter into a student data privacy agreement with NKSD. |
| DPA Status - Vendor Unresponsive | The provider has not responded to requests to enter into a student data privacy agreement with NKSD. |
| | |