Office of Family Learning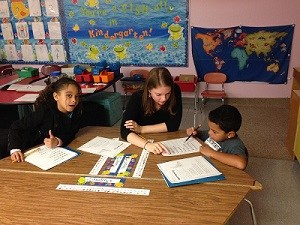 The Office of Family Learning is a vital and active component of the North Kingstown School Department. All Family Learning Programs are school-based or school-linked to enhance and support the district's commitment to student achievement through family learning. As the "Door to the District" we strive to help all families feel engaged in their children's education, supported in their parenting journey, and confident in their ability to be their child's first and best teacher.
Our broad array of parent and family development services offers families education-based opportunities for learning, playing, and building on individual and family strengths and challenges. Services are delivered in the school, the home, and in the community. They include:
literacy-based early childhood education

parenting development and training

a professionally staffed Family Center at Quidnessett Elementary School

after school and summer learning programs

developmental screenings for children birth-5

referrals to comprehensive community resources

professional development for district staff

community health programs
As the town's designated Child Opportunity Zone site or COZ (pronounced COZY), we have been serving children and families in our community for over 20 years. Most family education programs are available to all North Kingstown families and many are offered at no charge.
Our administrative offices are located at Davisville Academy (the former Davisville Elementary School), 50 East Court, North Kingstown.
Our Mission...
to help ensure that children come to school ready to learn, that families have the tools and support necessary to raise happy, healthy children, and that the community is invested in sustaining strong families through education and involvement.